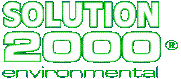 SOLUTION 2000™ environmental cleaning for the 21st century.
Material Safety Data Sheet
SECTION I: PRODUCT IDENTIFICATION
Product Name: SOLUTION 2000™ Concentrate.
Type of Product: Colloidal Agent, Degreaser and Cleaner Concentrate.
WHMIS Regulated: No
Classification: Non-Hazardous
Other Regulations: None
SECTION II: HAZARDOUS INGREDIENTS
CAS Registry No. - % W - Chemical Names -Toxicity
None / Not Applicable

SECTION III: PHYSICAL DATA
Appearance: Clear, Pale Yellow
Odour: Slight, Floral
pH (concentrate): 8.5
Boiling Point: 100 Degrees C.
Solubility in Water: I00 %
Specific Gravity: 1
Evaporation Rate: 1, (1= Water)
SECTION IV: FIRE AND EXPLOSION HAZARD DATA
Flash Point: None.
Unusual Fire and Explosion Hazard: None.
Extinguishing Media: Not Applicable.
Special Fire Fighting Procedures: None.
SECTION V: HEALTH HAZARD DATA
EFFECTS OF OVEREXPOSURE
Swallowing: Non-toxic.
Skin Absorption: Non-toxic.
Inhalation: Not Applicable.
Skin Contact: Non-irritant.
Eye Contact: Non-irritant.
HAZARD RATING
Health: 0
Flammability: 0
Reactivity: 0
Special Warning: 0
Hazard Rating System: 0=None, 1=Slight, 2=Significant, 3=High, 4=Extreme

SECTION VI: EMERGENCY AND FIRST AID PROCEDURES
Ingestion: Drink 3 - 4 glasses of milk or water.
Skin: Flush with water.
Inhalation: Not applicable.
Eyes: Flush with water. If irritation persists, call a physician.
SECTION VII: REACTIVITY DATA
Stability: Stable.
Conditions to Avoid: None.
Incompatibility (materials to avoid): None.
Hazardous Decomposition Products: None.
Hazardous Polymerization: Will not occur.
Conditions to Avoid: None.
SECTION VIII: SPILL OR LEAK PROCEDURES
Steps to be Taken if Material is Released or Spilled: Mop up spillage. Rinse spill area with water and allow to dry.
Waste Disposal Method: Flush with Water into waste system in accordance with Municipal, State or Provincial and Federal Regulations.
SECTION IX: SPECIAL PROTECTION INFORMATION
Respiratory Protection ( specify type ) : None required.
Ventilation: No special ventilation required.
Protective Gloves: None required.
Eye Protection: None required.
Other Protective Equipment: None required.
SECTION X: STORAGE, HANDLING AND SHIPPING INFORMATION
Precautions to be Taken in Handling and Storage: Normal handling procedures. If frozen, agitate before using.
Other Precautions: General. Follow label or Technical Data use directions.
Transport of Dangerous Goods (TDG) Classification: No special transport requirements.
Product Identification Number PIN): None required.
TDG Emergency Number: Not required.
SECTION XI: PREPARATION DATA
Manufacturer:
EnviroSan Products Ltd. 170 Alexandra Blvd. Toronto, ON Canada M4R 1M4
Department: Lab.
Date: September 1, 2006.
Site Map
SOLUTION 2000™ International
The world-wide source of SOLUTION 2000™ Environmental Products.
A division of EnviroSan Products Ltd.
© 1997 - 2006 EnviroSan Products Ltd. All rights reserved.
Web design by: Websters Creations
This site last updated September 1, 2006.